Welcome to our BeCM Page.
You will Find Many Documents in our download section relating to The P38 and its electrical systems.
Range Rover P38 BeCM  Specialists.
We can unlock, repair, clone and turn off Immobilisers and alarms.
No BeCM will beat us, don't loose your codes and settings if it cant be fixed CLONE IT.
To have your BeCM unlocked and the settings saved for future cloning if needed.
This service also covers any configuration changes you may require including alarm and immo off.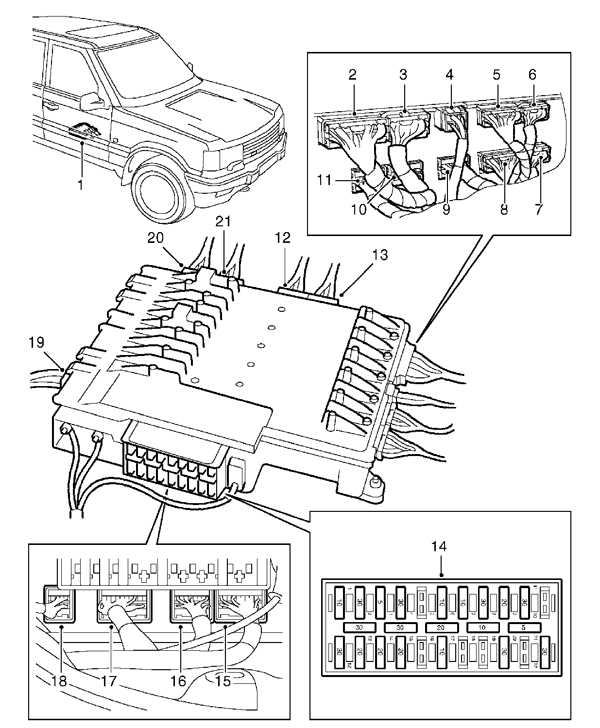 The BeCM is A very Large ECU found under the right hand seat of all P38 Range Rovers (1995 to 2002). 
This ECU has almost certainly been custom designed by Rover specifically for this vehicle and forms the
mainstay of the vehicles operation. It was one of the first dedicated Body control units fitted in production vehicles and it unites nearly all of the other vehicle system ECU's used in the vehicle in respect of Messaging capabilities and data exchange. Although diagnostically it is seen and treated as one single large ECU, primarily due to the fact that it handles so many functions within the vehicle it connects and controls number of other smaller control units located around the car using its own mini parallel data bus. These Outstations as they are known are the Instrument Pack, Centre Console switch pack, Left and Right Door controls and electric seat controllers (where electric seats are fitted). Interestingly this ECU was the first ECU that Land Rover had designed to have a number of programmable options so that one single ECU could be used for different engine configurations and for different markets to meet the legislative requirements of each simply by having its programming altered. They also added some luxury options of their own to turn on and off depending upon specification such as one touch functionality, Trip computer and so on. With TestBook the user gets only the choice of country, and whether Fog Lamps, Trip computer and sunroof are fitted or not. However Blackbox software modules allows for near infinite possibilities as each and every single possibility is provided for checking and modification exactly as desired allowing every enhancement to be activated. There is also a seemingly endless amount of inputs and outputs which can be used to check functionality.
The BeCM Plugs & Pin Outs
C907 (up to 99MY) C1277 (from 99MY) 8 pin Black
C257 (up to 99MY) C1278 (from 99 MY) 20 pin Yellow
1 RH front seat serial data bus (clock)
2 LH front seat serial data bus (direction)
3 LH front seat serial data bus (data)
4 LH front seat position
5 RH front seat serial data bus (direction)
6 RH front seat serial data bus (data)
7 LH front seat serial data bus (clock)
8 LH front seat position
1 Rear screen washer on/off
2 RH direction indicators on/off
3 Headlamp dipped beam on/off
4 Windscreen washer on/off
5 Front wipers switch input 2
6 Ignition switch position III
7 LH direction indicators on/off
8 Headlamp flash
9 Side lamps on/off
10 Front fog lamp switch telltale
11 Wiper time delay
12 Headlamps main beam on/off
13 Rear wiper on/off
14 Front fog lamps on/off
15 Front wipers switch input 3
16 Front wipers switch input 1
17 Horn on/off
18 Fuel filler flap release on/off
19 – 20 Not used
C256 (up to 99MY) C1280 (from 99MY) 16 pin White
C255 (up to 99MY) C1279 (from 99MY) 20 pin White
1 Instrument pack serial data bus (direction)
2 Instrument pack serial data bus (clock)
3 Instrument pack serial data bus (data, duplicate)
4 Instrument dimming supply
5 Instrument pack serial data bus (earth, duplicate 6 Rear fog lamp switch telltale
7 Security LED
8 Engine speed (to instrument pack
9 Instrument pack serial data bus (direction, duplicate)
10 Instrument pack serial data bus (clock, duplicate)
11 Instrument pack serial data bus (data)
12 Instrument dimming supply
13 Ignition switch position 1
14 Instrument pack serial data bus (earth)
15 Instrument pack audible warning
16 Road speed (to instrument pack)
1 Rear fog lamps on/off
2 Not used
3 Key in ignition switch
4 Clutch pedal depressed (manual models)
5 Not used
6 RH front seat heater on/off
7 Hazard warning lamp telltale
8 Diagnostic K line
9 Alternator charging (engine running)
10 Road speed (to ATC ECU)
11 Rear screen heater on/off
12 Immobilizer passive coil supply
13 Hazard warning on/off
14 Cruise Control on/off
15 LH front seat heater on/off
16 Not used
17 Diagnostic L line
18 Power to cruise control ECU, switch telltale and inverter/converter
19 Not used
20 Road speed (to cruise control ECU)
C325 (up to 99MY) C1283 (from 99MY) 18 pin Grey
C323 (up to 99MY) C1284 (from 99MY) 12 pin grey
1 LH rear fog lamp
2 LH reverse lamp
3 RH rear fog lamp and trailer fog lamp
4 RH rear direction indicator lamp
5 Auxiliary power supply (serial amplifier)
6 RH rear door superlocking
7 Rear screen wiper motor
8 RH rear door locking
9 RH reverse lamp
10 RH tail lamp and trailer RH tail lamp
11 RH rear, front and load space courtesy lamps
12 RH brake lamp and trailer brake lamps
13 Centre High Mounted Stop Lamp (CHMSL)
14 Trailer LH direction indicator lamp
15 Trailer RH direction indicator lamp
17 Battery power supply (front, RH rear and load space courtesy lamps, tail gate
central locking, alarm RF receiver)
18 RH rear door unlocking
1 Ignition power supply (rear view mirror dip)
2 Battery power supply (RH front door outstation)
3 Trailer LH tail lamp
4 Battery power supply (RH rear ICE amplifier)
5 RH rear window down
6 RH rear door marker (puddle) lamp
7 Fuel filler flap release
8 RH rear window anti trap supply
9 Sunroof anti trap supply
10 RH rear window up
11 RH rear window switch illumination
12 Battery power supply (RH front door outstation (window))
C324 (up to 99MY) C1292 (from 99MY) 4 pin Natural
C120 (up to 99MY) C1281 (from 99MY) 14 pin Yellow
1 Sunroof backwards
2 Rear screen heater
3 Sunroof forwards
4 Ignition power supply (sun visor
1 Ignition power supply (SRS DCU)
2 Alarm sounder
3 LH front fog lamp
4 Rear screen washer pump
5 LH front side lamp
6 RH (direction indicator) side repeater lamp
7 Horn
8 LH headlamp main bean (auxiliary bulb)
9 Ignition switch position II
10 LH headlamp main beam (duel element bulb
11 LH headlamp dipped beam
12 LH front direction indicator lamp
13 Windscreen washer pump
14 LH (direction indicator) side repeater lamp
C113 (up to 99MY) C1289 (from 99MY) 10 pin Yellow
C626 (up to 99MY) C1287 (from 99MY) 20 pin Black
1 RH headlamp main beam (dual element bulb
2 Starter motor on
3 RH headlamp dipped beam
4 RH front direction indicator lamp
5 RH head lamp main beam (auxiliary bulb)
6 Headlamp wash/wipe
7 Front wipers fast speed
8 Front wipers slow speed
9 RH front side lamp
10 RH front fog lamp
1 EAT ECU diagnostic L line (automatic models)
2 Centre console serial data bus (direction)
3 Transfer box high range
4 Transfer box neutral
5 Shift mode status 2 (automatic models)
6 Transfer box over temperature
7 Transfer box low range
8 Gear position switch X signal (automatic models)
9 Gear position switch Y signal (automatic models)
10 Not used
11 Engine speed (to EAT ECU (automatic models))
12 EAT ECU diagnostic K line (automatic models)
13 Centre console serial data bus (clock)
14 Centre console serial data bus (data)
15 Not used
16 Shift mode status 1 (automatic models)
17 Handbrake on/off
18 Gear position switch Z signal (automatic models)
19 Seatbelt latched/unlatched
20 Clutch pedal depressed (manual diesel models); ECM (automatic diesel
models); gear selector lever park/neutral (NAS V8 models)
C362 up to 99MY C1286 (from 99MY) 16 pin Black
C326 (up to C1285 (from 99MY) 20 pin Blue
1 LH front door serial data bus (data)
2 LH rear window anti-trap 2
3 LH front window anti-trap 2
4 LH rear door open
5 LH rear window anti-trap 1
6 Movement detected (by volumetric sensor)
7 LH rear window down
8 LH door mirror position
9 LH front door serial data bus (direction)
10 LH front door serial data bus (clock)
11 LH front window anti-trap 1
12 – 13 Not used
14 LH rear window up
15 Volumetric sensor power supply
16 LH rear window anti-trap power supply
1 Rear wiper park
2 Front courtesy lamp switch
3 Tail door open
4 Sunroof anti-trap 1
5 RH rear window anti-trap 1
6 Radio cassette remote on/off
7 RH front window anti-trap 1
8 RH rear window down
9 RH front door serial data bus (clock)
10 RH front door serial data bus (direction)
11 Sunroof closed
12 RH door mirror position
13 RH rear door open
14 Sunroof anti-trap 2
15 RH rear window anti-trap 2
16 RH front window anti-trap 2
17 RH rear window up
18 Not used
19 RH front door serial data bus (data)
20 Reverse selected
C114 (up to 99MY) C1289 (from 99MY) 20 pin Green
C112 (up to 99MY) C1288 (from 99MY) 16 pin Green
1 Low screen wash fluid level
2 inertia switch tripped
3 Front wiper park switch
4 Not used
5 Engine warning lamp
6 Not used
7 Low engine oil pressure
8 Air suspension wade warning lamp
9 Air suspension messages 1
10 Fuel level
11 Road speed
12 ETC messages and warning lamp
13 Not used
14 Bonnet open
15 Alternator charge
16 Low brake fluid level
17 Not used
18 Air suspension messages 2
19 Engine coolant temperature
20 Engine speed
1 Not used
2 Parking brake on
3 Side/Tail door open
4 Gearbox oil temp (Automatic)
5 Security code
6 – 7 Not used
8 Ing. Switch Pos.1
9 Engine speed
10 ABS warning lamp/message
11 Brakes on
12 Not used
13 Road speed
14 Cat convertor overheat (Japan V8) or glow plug warning (Diesel)
15 Not used
16 Fuel level (V8)
C361 (up to 99MY) C1290 (from 99MY) 18 pin White
C625 (up to 99MY) C1290 (from 99MY) 12 pin White
1 Auxiliary power supply (telephone)
2 LH rear window up
3 LH rear door marker (puddle) lamp
4 Battery power supply (trailer)
5 Trailer reverse lamps
6 Battery power supply (LH rear courtesy lamp, LH load space lamp, subwoofer amplifier and LH rear ICE amplifier)
7 Battery power supply (LH front door outstation, window)
8 Battery power supply (LH front door outstation)
9 LH rear courtesy lamp
10 LH rear window down
11 Not used
12 LH tail lamp
13 LH rear door unlocking
14 LH rear direction indicator lamp
15 LH rear door super locking
16 Illumination (LH rear window switch)
17 LH brake lamp
18 LH rear door locking
1 Ignition power supply (transfer box ECU)
2 Ignition power supply (gear selector lever (automatic models))
3 Ignition power supply (EAT ECU (automatic models))
4 Transfer box neutral low link
5 Auxiliary power supply (cigar lighter)
6 Shift interlock solenoid (automatic models)
7 Battery power supply (EAT ECU (automatic models))
8 Battery power supply (centre console switch pack)
9 – 10 Not used
11 Interior illumination (centre console switch pack, cigar lighter and gear
selector lever (automatic models))
12 Rear foot well lamps
C624 (up to 99MY) C1293 (from 99MY) 4 pin Natural
C912 up to 99MY) C0877 (from 99MY) 12 pin Green
1 – 2 Not Used
3 Battery power supply (transfer box ECU)
4 Not Used
1 RH front seat heater
2 LH front seat heater
3 RH front seat enable
4 LH front seat earth
5 RH front seat lumbar support
6 LH front seat lumbar support
7 LH front seat battery power supply 2
8 LH front seat battery power supply 1
9 LH front seat enable
10 RH front seat earth
11 RH front seat battery power supply 1
12 RH front seat battery power supply 2
C258 (up to 99MY) C1276 (from 99MY) 10 pin White
1 Cruise control pump supply
2 Illumination (clock, fascia, switches, ATC ECU, instrument pack and radio
cassette player)
3 Illumination (front foot well lamps and ignition switch)
4 Brakes on/off
5 Illumination (glove box lamp)
6 Auxiliary power supply (ATC ECU and radio cassette player)
7 Battery power supply (clock, radio cassette player and instrument pack)
8 Ignition switch position II
9 Ignition power supply (brakes, PAS, air suspension switches and ATC ECU)
10 Ignition key inhibit – up to 97.5MY